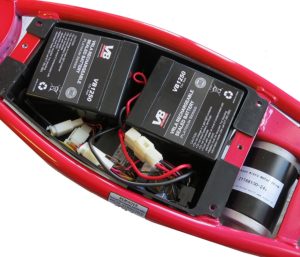 If your Razor e100 scooter is no longer charging then you almost certainly need new batteries.  This is something you can replace on your own and you can save money by buying off the shelf batteries than any ones sold directly by the manufacturer.
The type of batteries that go into this scooter are called SLA batteries.  SLA is short for sealed lead-acid.  The scooter motor is made to run off of 24 volts.  In order to get to 24 volts the scooter housing is made to hold two 12 volt batteries wired in series.  When you wire in series you add up the voltages.
The frame of the scooter is made to hold two standard sized 12 volt 5 amp-hour batteries. Since this scooter takes a standard size battery, you can find all different kinds of manufacturers making them. Here is a brand I really like (make sure you buy 2 of them).
* As an Amazon Associate I earn from qualifying purchases.
You will also need F2 Connectors:
You will need a screwdriver and wire stripper/crimper.  If you don't have a wire stripper/crimper this is one is inexpensive and highly rated:
So now that you have the replacements batteries and tools you can replace the old batteries fairly easily.  Watch the video below for step by step instruction.  You can recycle your old batteries (don't throw them in the trash) at most automotive stores that sell car batteries.