If you are an iPhone user you may have gotten frustrated with the message "iCloud full".  You might also feel stuck backing your phone up to your laptop because there isn't enough storage.  You could pay for monthly services to store photos and videos but even then, besides the expense, you are still not getting enough storage.  Or maybe your main problem isn't any of those, maybe you simply never remember to start a backup of your phone's videos and photos.
Disclaimer: PhotoFast sent me a unit for me to review and keep. These are my own opinions.
This is where the PhotoCube comes in.  This little device is the thing I have been looking for ever since I purchased my first iPhone in 2009.  It shines at backing up your phone and charging the battery at the same time.  There is an microSD card slot on the device that can handle all different storage sizes.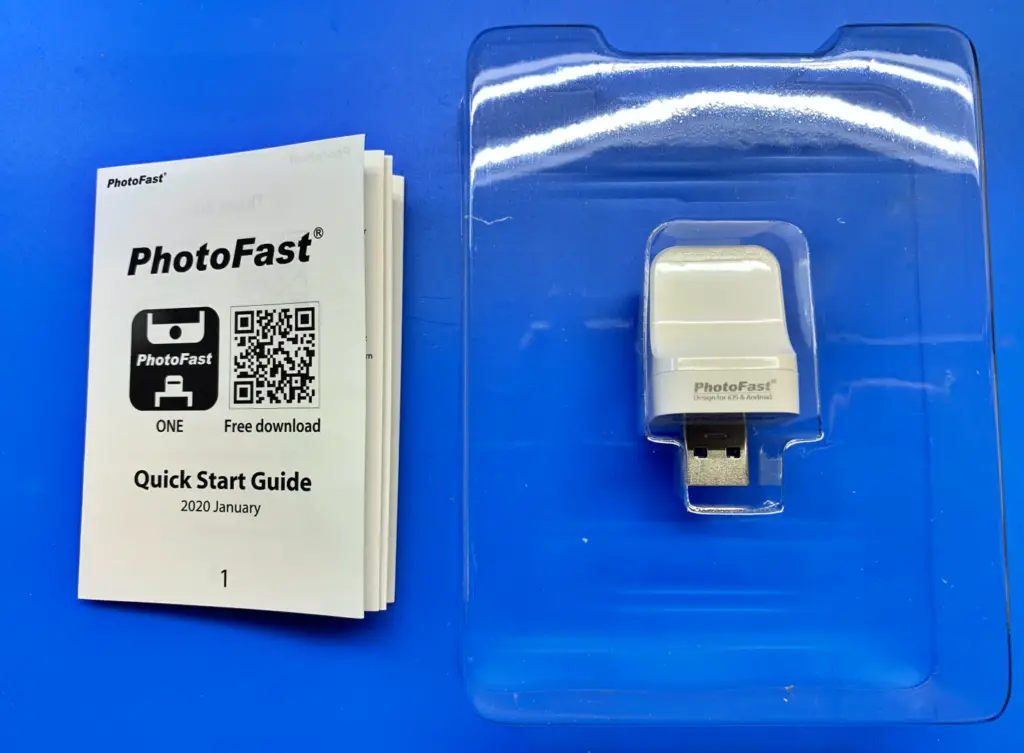 How does the PhotoCube work to backup your iPhone?
The PhotoCube works with an app on your phone to safely download photos, videos, contacts, and calendar data into sorted folders on an microSD card.  The process does not require any user intervention once you have everything setup.  All you need to do is plug the PhotoCube into a USB power source and plus the cable into your phone.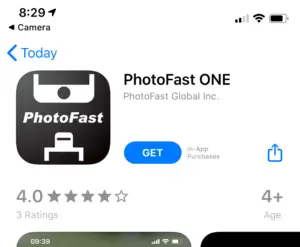 The iPhone app that you download is currently called the "PhotoFast One".  You will need to give it the necessary permissions to access the files on your phone and that's it. 
Why I like the PhotoCube
I really like how easy this thing is to use and how I don't need to think about backing up my phone anymore.  I remember to plug it in to charge it, and it automatically backs my phone up.  If multiple people use their phones with it, it's no problem.  The PhotoCube will detect the different phone and sort the data appropriately into another folder. You can even copy that data from the microSD card to another hard drive at any time to create another backup copy.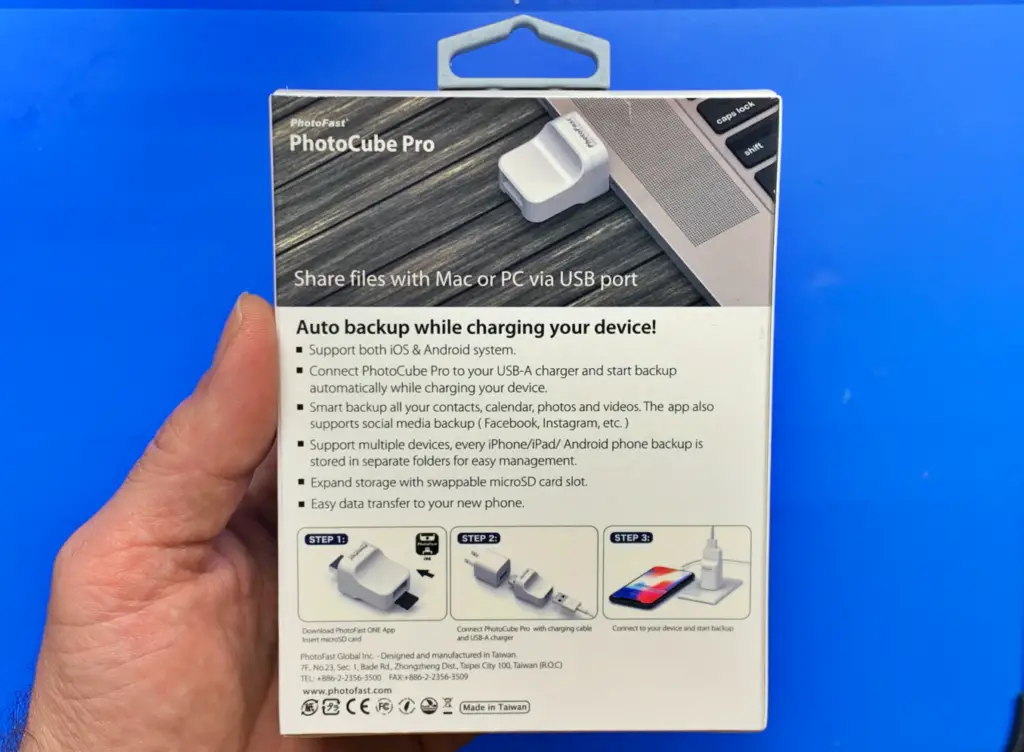 But perhaps my favorite thing about the PhotoCube isn't actually about the automatic backup, as awesome as that is.  My favorite part is the easy ability to grab individual files (photos and videos).  As a YouTube creator I often am trying to transfer files to my Macbook for editing and the Photos app on the laptop does not natively allow you to manage files (you need to "export" them from a library).  Now, with this device I have all of my photo and video files at my finger tips on a storage device.
The PhotoCube also is a microSD USB card reader.  This means that if you plug the PhotoCube into your Mac then you can see all of the native photo and video files right in finder.  So if I want to grab those photos of my solar panels or get that one video, I don't need to fuss with airdrop or exporting from a Photos app library, I can simply drag the files to the destination folder!
How I Plan to Use the PhotoCube in My Backup Strategy
No one wants to loose their precious photos and videos. A good backup strategy is needed. I currently have a combination of cloud and local storage for my photos and videos. The PhotoCube fits in nicely as a backup because it is independent of my local computer and an external drive. You can never have too many backup options!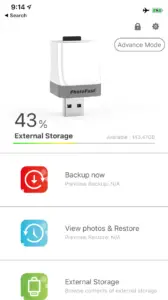 A Great Alternative to Free Google Photos Going Away?
In the summer 2021, Google photos will no longer have a free storage option.  This has been the free go-to backup solution for many after their included iCloud storage has been used up.   If there are no more trusted free online backup solutions that exist one must decide on paying for a backup strategy that involves local backup, online cloud backup, or a hybrid of both.
The PhotoCube's ability to sort the contents of each user's phone into separate folders and in those folders have separate folders [subfolders] for the data on the microSD card is so helpful.  When transferring these folders to a local backup one only needs to grab the folder they want to put it in the appropriate storage location.  This could be a local hard drive or a cloud drive. 
Conclusion
The PhotoCube has been the device I have been wanting for a long time.  The ability to copy your phone's contents into a sorted folder on a microSD card is where this thing shines.  It makes backing up my phone seamless and gives great peace of mind knowing my files are backed up.
Check out the PhotoCube on Amazon (for iOS) (Aff link*). I've seen them for sale at times with or without a microSD card. *As an Amazon Associate I earn from qualifying purchases.