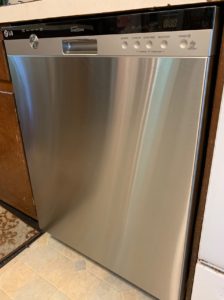 I found this really nice LG dishwasher sitting out for trash pickup. We had been wanting a new stainless steel dishwasher but didn't want to pay the high prices to replace our current working one.
When I first drove by and saw the dishwasher there among some other items being thrown away I was initially skeptical it would be worth my time to take it home and work on it. It must have
some kind of major problem, right? Why would they throw away something so nice? It looked like it was just taken home from the store and used a few times.
While I was standing there and texting my wife about it, the homeowner came out to talk to me. They told me that it needed a simple fix and something broke on it because they let the water freeze in their house. They left the thermostat too low while on a trip.
Watch this video if you want to hear the crazy story of why they didn't want to fix it and how I was about to install this $600+ LG dishwasher for about $7.